The theme for the 30th Annual Student Conference on Latinx Affairs is Influential Voices: Shaping Perspective Through Representation. Latinx representation is a powerful tool that can impact and shape the potential of how one thinks. Delegates will be guided in using their vote to bring out progressive change in their lives and their communities. The progress of the Latinx community rests in the efforts of past, present, and future leaders. 
Our conference will provide delegates the opportunity to gain insight from featured keynote speakers and workshop sessions. In addition, delegates will enjoy networking among their peers and professionals through guided round table discussions capped with evening entertainment.
As we move forward through the year, we hope you keep the conference in mind. Please keep a lookout for registration updates. Thank you in advance. We hope to see you in April!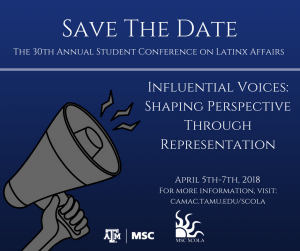 ---
*Latinx in this context is used to as the gender neutral term to refer to people who have origins in Central or South America"
-via "Spanish vs. Hispanic vs. Latinx: What's The Difference?" on feministculture.com
http://feministculture.com/index.php/2015/09/22/spanish-vs-hispanic-vs-latinx-whats-the-difference/