The MSC Committee for the Awareness of Mexican American Culture (MSC CAMAC), would like to invite you to the 29th Annual Student Conference on Latino Affairs (SCOLA) held on March 3rd-5th, 2017.
The theme for the 29th Annual Student Conference on Latino Affairs is Con Ganas!: Building a Legacy. While this is a "living theme" that will form itself as the conference unveils, we do hope that through this theme we are able to explore how one's culture, history, and efforts intersect with the question of "what is the legacy we are leaving?"
"Con Ganas" is a phrase commonly used in the Hispanic community to motivate and encourage. We are hoping that delegates that are familiar with this phrase will share what Con Ganas means to them, and how this cultural expression may apply in their everyday lives as students, professionals, leaders, activists, family members, and any other identity. Likewise, if you are not familiar with this phrase, we invite you to learn from it, while those around you learn from you.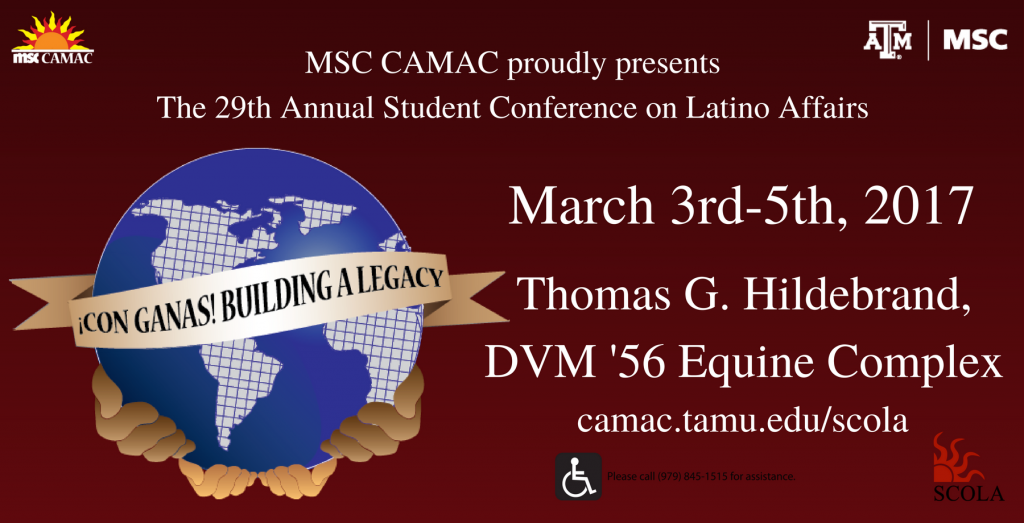 ---
*Latinx in this context is used to as the gender neutral term to refer to people who have origins in Central or South America"
-via "Spanish vs. Hispanic vs. Latinx: What's The Difference?" on feministculture.com
http://feministculture.com/index.php/2015/09/22/spanish-vs-hispanic-vs-latinx-whats-the-difference/