The Student Conference on Latino Affairs (SCOLA) is a three-day conference in which participants have the chance to hear from a wide array of speakers ranging from national and state, government, business, and media. Our mission is to provide a forum for students to discuss significant issues that impact the Latino community and to foster exemplary leadership development among our members. It is our belief that the interaction, discussion, and enlightenment fostered by the conference effectively creates a stimulating educational and life-changing experience.
---
The 29th Annual Student Conference on Latino Affairs
¡Con Ganas!: Building a Legacy
March 3-5, 2017
"¡Con Ganas!: Building a Legacy" has been selected as this year's SCOLA theme. We will explore how one can grow as an individual and a professional while maintaining and fostering one's identity/culture. The conference theme aims to present the delegates with various methods to effectively reflect an authentic image in order to be able to prosper during interviews, the work field, and when networking with professionals and peers while remaining truthful to their roots.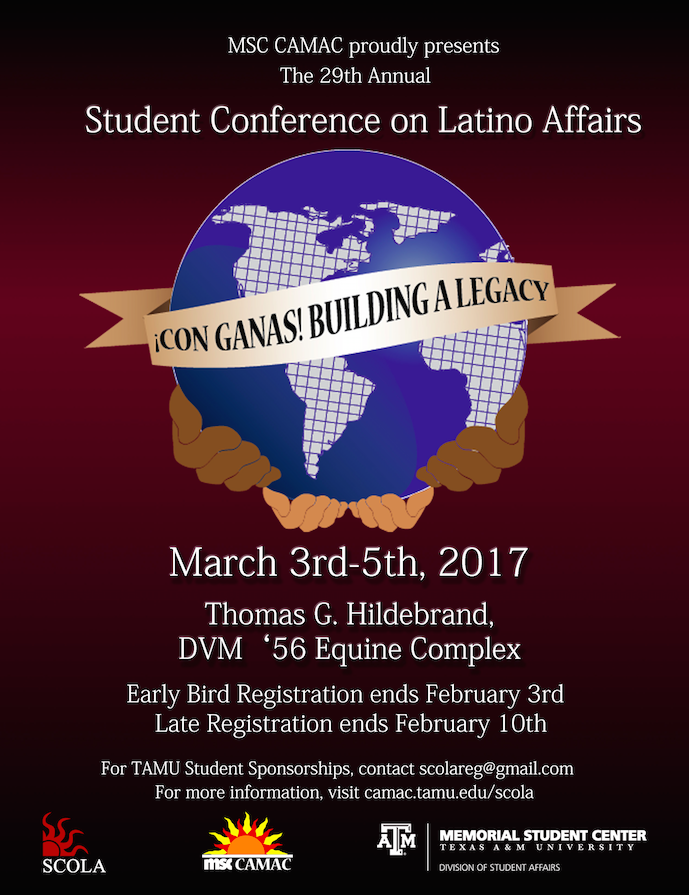 Conference Topics and Conversations
This year's conference theme revolves around identity politics. The purpose of this theme is to ignite within delegates a development of new and positive perception of themselves, their own cultural identities, and the identities of cultures separate from their own. Workshops should include the following conversations:
Delegates will develop personal branding and marketing skills through the Professional Development Institute.
Delegates will successfully network with local, state, and national professionals.
Delegates will understand the importance of balancing their authentic self in professional settings.
Delegates will explore the intersectionality between personal and professional values and ethics.