Mi Casa Su Casa
About
Mi Casa Es Su Casa is a program that offers students an opportunity to network and create a support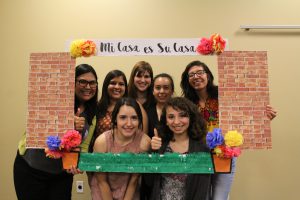 system at Texas A&M University. Texas A&M Professors and staff invite current students to their homes for an evening of meaningful conversations over a home cooked meal. This program provides a chance for students to network and gain a better understanding of the various opportunities that could open up in the future.
Participants shared after their Mi Casa experience they:
Met people who supported and encouraged them to be successful

Became more confident in approaching and interacting with Texas A&M Faculty and Staff members

Felt welcomed, supported, and valued by the Aggie Family

Left inspired and motivated knowing they could relate to hosts and that they are closer to the Aggie Familia.
Listed below are the 2018-2019 Mi Casa Dinner Dates and their application deadlines. Please note only one application will be open at a time.
Hosting dates
Opening ceremony: September 20, 2018 at 6:30 pm in the MSC 2406
October Dinner – October 18, 2018
November Dinner – November 15, 2018
February Dinner – February 21, 2019
FAQs
Students
Do I have to be a member of MSC CAMAC to participate?

No, you do not. Everyone is encouraged to participate whether or not you are a member of MSC CAMAC.

Do I have to pay in order to attend the Mi Casa dinners?

No you do not. Mi Casa is happy to cover the cost of attendance, however because we have limited spots, we have a cancellation policy.

What happens if I have to cancel last minute?

If you RSVP and you do not show up to the program, we will charge you a fee of $10. If you know you have to miss a dinner you signed up in advance, we ask that you let the coordinator know 3 days in advance. If it is less than three days, you still have the option to find someone to take your place and there will be no fee.

What do we wear to the dinners?

Advised dress code is casual professional. Keep in mind that you will be interacting with Texas A&M Faculty and Staff.

Do I get to choose my hosts or who I'm grouped with?

No, you do not. Students will be assigned to a random group and host.

Do I have to attend all dinners?

You are expected to attend the dinners you select in the application form. However, if there is a dinner that you cannot attend you must make sure to cancel three days in advance of the dinner.
Hosts
How many students am I expected to host?

When hosts apply they are asked how many students they can host; the average range of students is from 6-8. However, hosts will be notified by the Mi Casa coordinator in a timely manner before the day of the dinner just to reassure the number of students going to their home.  

How much can I expect to spend per dinner?

Past hosts have spent from $50-$125. It all depends on how many students you're willing to host.

What is the time slot for dinners assigned?

Dinners are always scheduled to begin at 6:30 pm and last no longer than two hours. From past hosts, 6:30-8:30 pm was the time frame that was most common.

How are hosts recognized?

We really appreciate what our hosts do and as a token of appreciation we present them with a small gift. Along with that, hosts are also recognized during our Mi Casa closing ceremony.
How do I sign up?!
To sign up, click on the respective link. This will take you to Maroon link. Sign in with your Net ID, and Password. You should then have access to the Mi Casa Es Su Casa application.